Sex Games

for
Couples Over 50



Sex games are one easy thing that can liven up relationships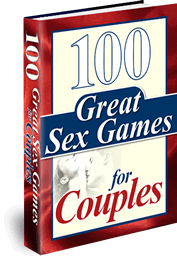 Sex Games
Sex games can do wonders for your intimate relationships when you're over 50, and not just in terms of your sex life.
Of course, like anything else, it all depends on what you're willing to consider, to try, to adjust. The older you get, the more "same-old-same-old" there is to go adrift in.
For a look at one possible source of ideas
Click Here!





It's no secret that maintaining intimacy and fun in relationships in the last third or so of your life is a challenge for many.

Any way you can use meet these challenges and keep the fires burning or to re-ignite them is worth a look.  If it's fun . . . all the better!

Depending on specifics of a particular relationship between two people, these challenges can include--
Boredom and habit. The path of least resistance is to do what you've always done, but what you've always done can get pretty boring after a while.
Difficulty suggesting something different.  It can be hard to ask your partner to do something different in sensual sexual interactions for fear that they may interpret it as a way of saying that you haven't really liked what you have been doing.
Physical changes.  Aging can bring changes in the bodies of both men and women that call for some new ways of being with other. Whether it's stiffer joints, softer penis, decreased vaginal lubrication, or something else, your body is not the same as it once was.


The challenges are real, but it's your life and in the end it comes down to deciding what YOU are going to do about it.
You can
suck it up, keep quiet, and tell yourself this is just the was it is.
mutter and complain, but basically do nothing.
see it as a challenge and an adventure to see what you can come up with


They can provide an amazingly effective and fun way to deal with many of the barriers to setting off on a new leg of your intimate sexual journey.


For a good article on the topic CLICK HERE.
Get silly.  Have some fun.  It  IS still there to be had, but you do have to do it.  It won't come and tap you on the shoulder unbidden.

Copyright @ 2008 - 2018 Better-Relationships-Over-50.com